AG Days Degree
August 2-4, 2017
NM State University | Las Cruces, NM
Ag Days Degree program is an intensive learning opportunity for anyone interested in refreshing or expanding their knowledge base in animal agriculture and resource management. The goal is to provide a progressive series of courses related to Animal Sciences and Natural Resources.
Check-in and walk-in registration begins on August 2 at 11 am, NMSU Livestock Judging Pavilion (Frenger Street).
Ag Days Degree kicks-off at 1 pm with Stockmanship with Curt Pate held on campus and NMSU College Ranch, and concludes with a cookout for all attendees.
On Thursday, August 3 participants may select from a variety of Animal Science or Natural Resources short courses. The short-courses will allow attendees, NMSU faculty, staff, and students to interact and learn from one another.
The Animal Science track will cover ruminant nutrition and anatomy, reproduction, breeding, cattle diseases, feeds, as well as EPDs and genomics, and vaccine strategies.
The Natural Resources track looks at range, foresty, wildlife, habitat, and grazing management, as well as fire ecology and livestock management.
Special topics on Thursday afternoon include BQA Certification and Navigating Policy & Regulations.
On Friday, August 4 attendees have the opportunity to participate in four, one-hour demonstrations beginning at 8 am on the NMSU Campus Farm. Demonstrations include Animal Health Chute Side, Tack & Saddle Fitting, Brush Spraying and Plant Identification.
Early Registration | $60
Register Now

Deadline: August 1
Includes materials, breaks, cookout and lunch
Walk-In & Late Registration | $70

Short Schedule
Pre-Session
Horsemanship for Stockmanship
Curt Pate
August 2, 2017
8 am-12 pm | NMSU Horse Farm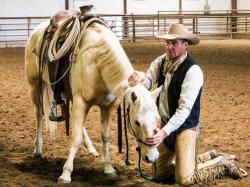 Register Now

Rider | $50
Limited to 10
Audit | $10
Youth < 18 years, free
Not Included with Ag Days Degree Registration
Marcy Ward
Phone: 575-646-5947
Cell: 575-644-3379
Email: maward@nmsu.edu